Dr. Joneigh Khaldun, an Ann Arbor native and practicing emergency physician at Henry Ford Hospital in Detroit, has led Michigan's public health response to COVID-19 alongside Governor Whitmer. With experience fighting disease outbreaks and medical crises around the country – From Hepatitis A in Detroit, responding to Baltimore's opioid crisis, and other unprecedented emergencies – Dr. Khaldun has seen it all. However, nothing quite like COVID-19.
The fight against COVID-19 in Michigan has had many challenges along the way. From the lack of testing early on, to limited medical supplies, the lagging strategy in the United States due to lack of support from the Federal Government may have cost lives.
In Michigan, according to the MDHHS, around 70,000 total confirmed cases, and 6,075 deaths have been reported since the virus surged in March and April. With daily cases hitting a low of 152 cases a day in June, and now spiking back up to 507 daily cases, Dr. Khaldun has continued to stress the importance of following the guidelines put in place by health experts to continue to fight COVID-19 in Michigan.
She shared, "The fact of the matter is people need to do their part. People need to wear a mask. They need to wash their hands. They need to socially distance. And if people do that, we'll see our cases come down as we did in April."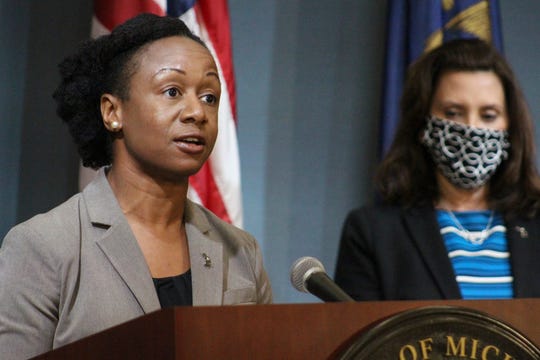 Dr. Khaldun has criticized the White House's response to the pandemic sharing that the mixed and at times inaccurate messages coming from the White House have caused added challenges and misinformation, making the fight against the virus even harder. Not to mention President Donald Trump's personal push back to mask wearing that has politicized this life saving measure at the highest level.
One message that Dr. Khaldun wants to make sure is clear to the people of Michigan is "Wearing a mask is not a political thing. It's something that can protect you. It's something that can save a life…"
Governor Gretchen Whitmer signed Executive Order 2020-147 on July 10 requiring masks in all indoor and crowded outdoor spaces in Michigan to help reduce the spread of COVID-19.
To read more about Dr. Khaldun's message to Michiganders, head here.