Michigan has reached a new vaccination milestone. As of Thursday, June 17, 60% (more than 4.86 million) of Michiganders aged 16 and up have received at least one dose of the COVID-19 vaccine.
The state is 806,870 residents away from hitting its goal of reaching 70% partially vaccinated, and although vaccine supply is now outpacing demand, Governor Whitmer is confident we can meet our goal.
This milestone, combined with a consistent drop in COVID-19 cases over the last few weeks, has led to all restrictions being lifted by Governor Whitmer on June 22, a week ahead of schedule.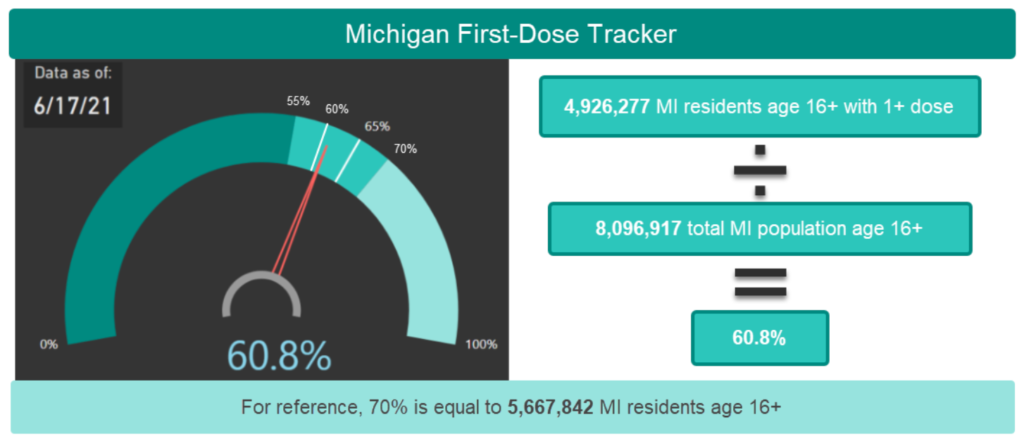 In a press conference sharing this promising vaccination milestone, Whitmer shared a message of hope for the future — "As we cross the 60% milestone in vaccinations, we are seeing cases, deaths, and hospitalizations continue to fall fast, which has helped to poise our economy for a strong recovery. I know that we can give Michigan the economic jumpstart it needs with the billions in available federal funds and our multi-billion dollar budget surplus. We will emerge from this once-in-a-century pandemic stronger than ever, and I am confident that we can make lasting, transformative investments in our schools, small businesses, and communities to help them thrive."
Although it's been a long road, Michiganders have come together to get vaccinated and take a stand against COVID-19, moving the State down the path to recovery.