MICHIGAN — 2022 was a historic year in Michigan politics. As results came in on Election Day it became obvious that the political scene in Lansing would be fundamentally changed. For the first time since 1983, Democrats will have a tri-fecta or complete control of the Governor's office, State House of Representatives and State Senate. In addition, Michigan's voters sent Attorney General Dana Nessel and Secretary of State Jocelyn Benson back to Lansing for another four years while continuing the Democratic-nominated majority on the Michigan Supreme Court.
The following is a Year in Review where we highlight one story from each month of the year in Michigan politics.
January
Nessel refers GOP "Alternate Electors" case to Feds
In January, Attorney General Dana Nessel referred the case against the fake electors to the Federal Department of Justice. The case stemmed from a December 2020 incident where "fake electors" led by MIGOP Co-Chair Meshawn Maddock attempted to gain access to the Capitol to cast illegal votes for losing Presidential candidate Donald J. Trump. The group has been accused of criminal forgery for both declaring Trump the winner of the election and for signing a document which said they voted in the Capitol – which was a lie.
February
Governor Whitmer Continues Push to Lower Cost of Meds
Governor Whitmer praised bi-partisan legislation that will help the state lower costs while also reiterating her calls to lower the price of insulin and continue to pass legislation to lower the cost of meds for Michiganders.
"This bipartisan legislation will help us lower the cost of prescription drugs for Michigan families," said Governor Whitmer. "We must continue working together to improve transparency in health care, hold accountable people and corporations profiting from skyrocketing prices, and make life-saving, essential medication like insulin affordable for every Michigander who needs it. I look forward to signing this legislation, and I am grateful to my Prescription Drug Task Force for all the work they did to provide a solid set of recommendations, including a few that were included in this legislation to help Michiganders save money on prescription drugs. Together, we can keep lowering costs for families as we grow our economy, create good-paying jobs, and put Michiganders first."
March
State of the Classroom: Students Deserve More
The Michigan Education Justice Coalition and partners held a "State of the Classroom" discussion on the current state of public schools, the vision to improve education opportunities for children and those who oppose quality public education.
Attending the event were parents, educators and advocates for healthy and healing schools in Michigan. The event featured numerous speakers who discussed issues affecting students across the state.
"Michigan should be a place where every kid, no matter who they are or where they live, can get a quality education. The best way to accomplish that is to fully fund all public schools in our communities," said Arlyssa Heard with 482Forward. "The State of the Classroom is positive when parents, educators, administrators and our elected officials commit to ensuring thriving public schools for all."
April
Senator Winnie Brinks Introduces Bill to Lower Prescription Drug Costs
In April, now incoming Senate Majority Leader Winnie Brinks introduced a bill to lower med costs by creating an Affordability Review Board.
Senate Bill 889 would create a prescription drug pricing board and a prescription drug affordability stakeholder council. The effect of the bill would be lower the cost of needed medications by establishing and upper payment limit that would keep prices down.
The legislation introduced by Senator Brinks along with other pieces of legislation would establish a drug affordability review boards to determine certain rates, set spending targets, and limit how much residents pay for certain high-cost drugs.
"The cost of prescription drugs has been rising for far too long. Establishing a Michigan Prescription Drug Affordability Board can directly reduce costs because it will act with the necessary oversight and transparency to do so," said Sen. Winnie Brinks (D-Grand Rapids). "The legislation unveiled today is a key component to helping those most at the mercy of these high prices — consumers — as well as other actors in the prescription drug supply chain who play a role in the final price we pay. Ultimately, this will rein in exorbitant prices and help get these prescription drugs to more people who need them."
May
Supreme Court Leak: Roe to be overturned
On May 2nd a bombshell report by Politico leaked that the Supreme Court would soon overturn Roe v. Wade and throw what had been settled law on abortion back to the states and put the lives of millions of women in jeopardy.
The leak immediately led to a backlash that would see millions of Americans take the streets to demand abortion rights. The issue would ultimately lead to passage of a Constitutional Amendment in Michigan that would create a right to abortion in the state.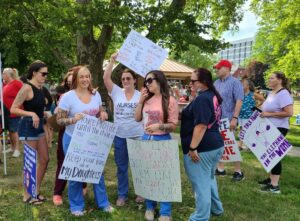 June
Chief James Craig, "Quality Guru" Perry Johnson and three other GOP candidates tossed from ballot
Reported by Bridge Michigan:
A Michigan judge late Wednesday rejected a ballot access lawsuit by James Craig, the latest in a series of rulings against Republican gubernatorial candidates ensnared in a signature forgery scandal.
Craig, the former Detroit Police chief, had led all polls of the GOP field before submitting 9,879 signatures on nominating petitions the state says were filled out by a fraudulent circulator ring now under criminal investigation.
Fellow candidate Perry Johnson, the biggest spender in the race, lost a similar lawsuit Wednesday. On Thursday, he appealed to the Michigan Supreme Court, asking justices for an order that would force him back on the ballot.
July
Tudor Dixon, Kevin Rinke Go Negative
Last week, candidate for Governor Kevin Rinke released an ad calling out fellow candidate Tudor Dixon for being a 'RINO' (Republican In Name Only) because she takes money from the DeVos family. In response, Dixon's campaign issued a strongly worded letter to the Rinke campaign threatening a lawsuit if the ad is not taken down.
The ad, which comes after a Missouri candidate for U.S. Senate called for violence against so-called RINOs, says, "She claims to be for Trump, but she's been endorsed by the RINO establishment's leading Never-Trumpers."
The letter in response stated, "Campaigns can be tough, and we understand the frustration that must come with failing at fundraising, spending millions of your own dollars, and not getting traction with voters."
The Rinke campaign stated that Tudor Dixon says one thing and then does another – insinuating that Dixon is just another politician who will do anything, say anything true or not and take money from any source just to win. The Dixon campaign then insinuated that Rinke is a wealthy man who has failed to connect with voters and is nothing more than a washed up used-car-salesman.
August
Tudor Dixon Gets DeVos and Trump Endorsments; Wins GOP Primary
As reported by Paul Egan in the Detroit Free Press:
Tudor Dixon, a Muskegon County businesswoman, won the Republican primary for governor Tuesday and will face Democratic Gov. Gretchen Whitmer in November.
The Associated Press called the election for Dixon at about 9:45 p.m. as she came out on top of a five-candidate race.
Dixon thanked her supporters at the Amway Grand Plaza just before 10 p.m., saying she will work "to make sure the next four years are filled with opportunities and not locked classrooms and massive grocery bills."
Dixon predicted an "epic battle" between her and Whitmer, who she attacked for closing schools and businesses during the pandemic, calling her "the queen of lockdowns." Referencing problems at the Michigan Unemployment Insurance Agency, Dixon also said Whitmer "allowed criminals to steal millions from our unemployment system, while those who needed it, couldn't get it."
September
Republican Candidates Run Scared on Abortion Issue
In an early sign of what would happen in November, Republican candidate for the 27th House District showed the Supreme Court overturning Roe v Wade in June was polling bad for so-called pro-life candidates. As reported by Great Lakes Weekly contributor Chris Savage:
In 2016, Trenton-based Bob Howey easily won the Republican nomination for what was then the 23rd Michigan State House district and went on to be defeated by Democrat Darrin Camilleri.
During that campaign, Howey was overtly anti-abortion. He received the endorsement of Right to Life of Michigan. The "Vote Smart" website lists him as "Pro-Life" and provides his candidate's statement on this issue as "'We hold these truths to be self-evident, that all men are created equal, that they are endowed by their Creator with certain unalienable Rights, that among these are Life, Liberty and the Pursuit of Happiness.' Bob believes that life is a gift from God and will fight for right's of the unborn." The "Vote USA" website shows his "Areas to Concentrate On" as "Howey wants to implement a 'Common Sense Plan' that emphasizes Jobs and the 'Right to Life'".
Additionally, Ballotpedia quotes his website at the time, howey4rep.com, with the same statement provided on the "Vote Smart" site. Howey's 2016 website has since been removed from the internet and an archive.org search for it returns a blank page.
Howey also responded to a candidate survey from the Oakland/Macomb chapter of Right to Life in 2016 with clear anti-abortion positions including wanting the U.S. Supreme Court decision in Roe v. Wade to be overturned and supporting the defunding of Planned Parenthood.
Finally, in a candidate's statement for The Huron Hub, Howey touts the fact that he was "The ONLY candidate endorsed by Michigan Right to Life" in the 2016 campaign.
This cycle, Howey is running for the new Trenton-area House seat in the 27th district and beat four other candidates in the Republican primary to advance to the general election. During the primary, Howey sent out a flyer that lists "Right To Life" in the "About Bob Howey" box: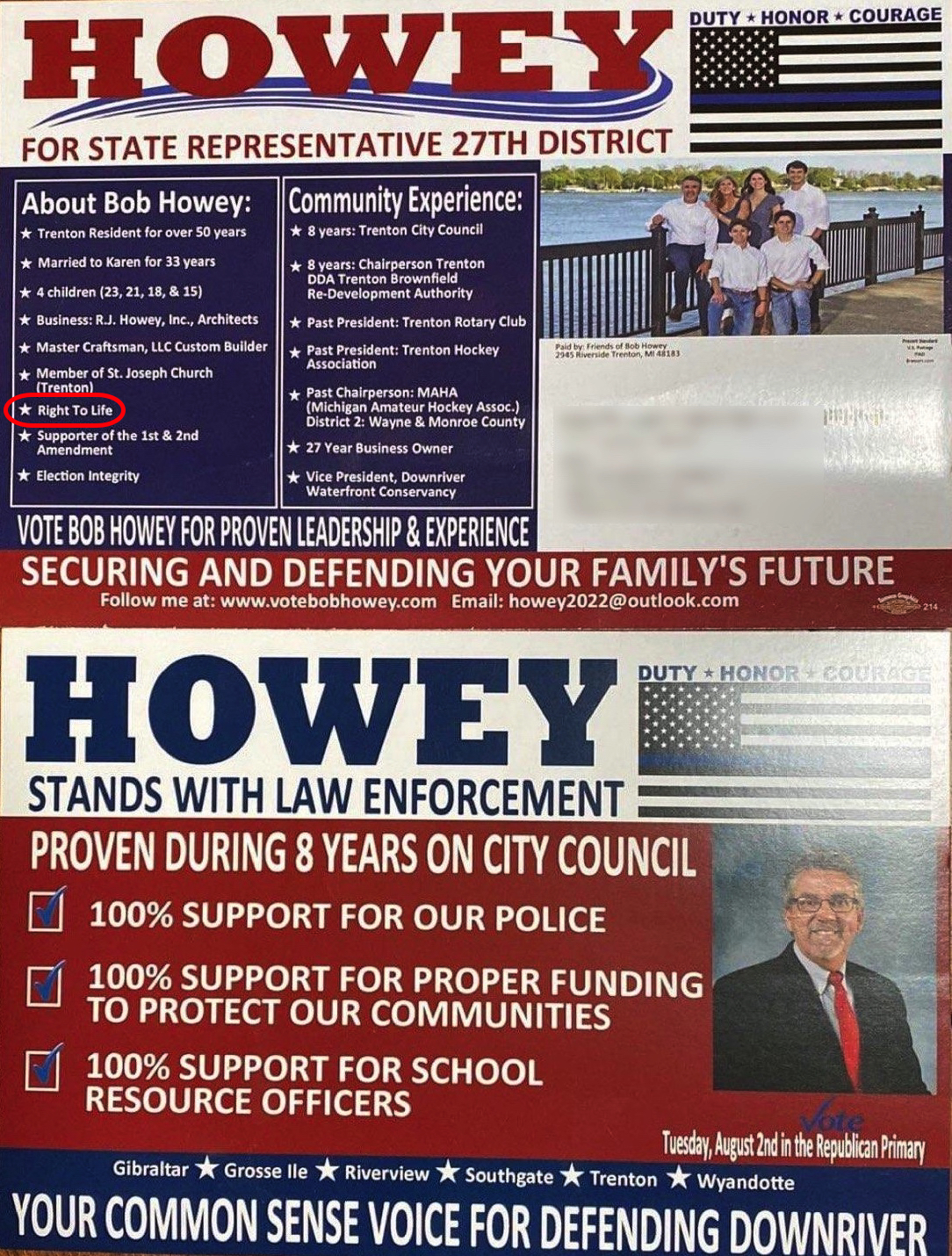 Once he won his 2022 Republican primary race, the Upper Downriver Right to Life chapter endorsed Howey to, in their words, "advance the pro-life, pro-family cause."
Now, with the primary behind him and a groundswell of pro-abortion sentiment in Michigan – made more prominent and important with the impending Reproductive Freedom for All ballot proposal that will be on the ballot after collecting a record-breaking 730,000+ signatures – Howey has now gone silent on this issue.
There are no mentions of abortion or his anti-abortion stance on his current website, bobhowey4rep.com, and he makes no mention of endorsements from anti-abortion groups like Upper Downriver Right to Life on his endorsements page.
The same is true of his Facebook page.
However, it's a recent mailer sent to voters in the new 27th House district where Howey seems to truly be distancing himself from his long-held anti-abortion position. The mailer refers to the Reproductive Freedom for All ballot proposal as the "Right to Reproductive Freedom ballot initiative". In the mailer, made to look like a personal letter to the voter, Howey says the decision on the right to an abortion in Michigan "will be decided by the voters, not politicians in Lansing". He goes on to say "I believe in our democracy, and the voters of Michigan will have the final word.
October
Polling Shows Democrats with Leads
With five weeks to go before the election, polls and election experts showed Governor Gretchen Whitmer with a lead in the race for governor. A WDIV/Detroit News poll showed Whitmer with a 17 point lead over her opponent Tudor Dixon. In the poll, only 17.3% of respondents viewed Dixon favorably while 44.7% viewed her unfavorably. Meanwhile, 54% of voters approved of Whitmer's job as governor.
FiveThirtyEight showed Whitmer with a 97% chance of winning the election and a 3% chance of Dixon winning. The estimated vote total predicted is 54.0% for Whitmer and 42.1% (Note: Whitmer would win 54.5% to Dixon's 43.9%)
The WDIV/Detroit News poll also showed Attorney General Dana Nessel with a 12-point lead over her opponent Matthew Deperno and Secretary of State Jocelyn Benson leading her opponent Kristina Karamo by 17-points.
November
Historic Night for Democrats Across the State
From Great Lakes Weekly Updates on Election Night:
Governor Gretchen Whitmer secured a second term as Michigan governor, easily defeating Tudor Dixon. The race centered on Whitmer's handling of the pandemic, her fight to ensure abortion rights and her economic performance as a job creator. Whitmer is the first Democrat to win re-election with a Democratic President in the White House since 1950.
Proposal 22-2 which enshrines the right to vote in the Michigan Constitution passed as.
Jenn Hill (D-Marquette) is expected to win the 109th State House District, winning in a rural area that Republicans invested in heavily. With this seat plus the 103rd (Coffia), 27th (Churches) and others across the state, Democrats would win a majority in the State House for the first time since 2011.
Proposal 22-3 passed enshrining abortion rights in the Michigan Constitution.
Secretary of State Jocelyn Benson won a second term beating Trump-backed election denier.
Proposal 1 which would alter term-limits and require financial disclosure from elected officials passed.
Supreme Court Justice Richard Bernstein won a second term on the Supreme Court, ensuring Democratic-nominated candidates will retain the majority on the state's highest court.
In addition, Democrats would win their first majority in the State Senate since 1984 and would sweep all education board races.
More November: On November 29, Governor Gretchen Whitmer tapped Kyra Harris Bolden to serve on the Michigan Supreme Court, making her the first black woman to sit on the state's highest Court.
December
Pfizer, GM Expand in Michigan
Pfizer announced that it will invest $750 million in its Kalamazoo manufacturing facility bringing nearly 300 jobs to the state and Kalamazoo county area.
"Since 2017, Pfizer has invested $5 billion to support the ongoing growth of our manufacturing leadership in the U.S. This expansion is part of our blueprint to grow our U.S. manufacturing base, create more manufacturing jobs, and help ensure patients everywhere can get the medicines they need," said Albert Bourla, Chairman and Chief Executive Officer, Pfizer
Governor Gretchen Whitmer issued a statement praising the investments in Michigan:
"Today, Pfizer is making another bold bet on Michigan's manufacturing strengths and hardworking people. This $750 million investment will expand capacity at their Kalamazoo facility, creating good-paying jobs and fostering long-term economic opportunity for Michiganders.  We brought this investment home thanks to effective collaboration between the state and Pfizer, and I know that Michigan's future is bright because we have world-leading companies, economic momentum, and the hardest working people on the planet to move us forward."
In addition to Pfizer, GM made good on its promise to expand its battery manufacturing in Lansing. General Motors will build a battery plant in Lansing, bringing thousands of new jobs and $2.5 billion in new investments.
Governor Gretchen Whitmer issued a statement praising the jobs coming to Lansing:
"As the state that put the world on wheels, high-tech manufacturing is part of both our past and our future. That's why we've been working hard to outcompete other states for every job and every dollar of investment, so everyone knows Michigan is the place to do business. Today, the Department of Energy announced continued support for GM's $2.5 billion investment to build Ultium's third battery cell plant in Lansing, promising 1,700 new jobs. Investing in our workers will help us bring supply chains home and ensure that Michigan is the best place to innovate, design, test, and manufacture the technology of the future."