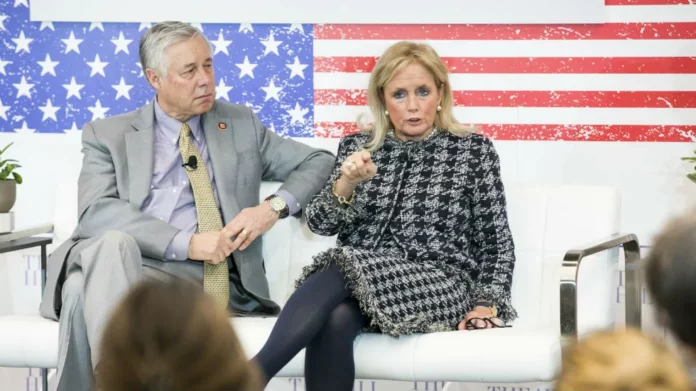 MICHIGAN — In today's polarized political climate, two members of Michigan's congressional delegation have continued to work together across party lines to get stuff done for their districts and the state as a whole.
Congressman Fred Upton (R – Kalamazoo) and Congresswoman Debbie Dingell (D – Ann Arbor) have often disagreed on policy – often voting opposite of each other. However, they have maintained both a good working relationship and friendship that has allowed them to get over other differences – especially when it comes to ensuring Michigan's infrastructure is maintained and the good paying construction jobs that come with infrastructure investments are protected.
That's why both were Yes votes on the Bipartisan Infrastructure Bill. Now, Michigan is benefitting from more than $10 billion dollars in federal funding from the bill signed by President Joe Biden, which will bring much-needed improvements to roads, bridges and broadband access in Michigan.
Upton and Dingell also co-sponsored a bill earlier this year that would allow Ukrainians, both U.S. citizens and non-U.S. citizens, impacted by the unprovoked Russian invasion of Ukraine access to the U.S. judicial system to seek and collect monetary damages from Russia or any individuals sanctioned by the U.S. Government.
In December of 2021, Dingell and Upton were featured on CNN discussing their friendship in a time when fierce partisans on both sides often demand partisan theatrics over legislative performance. CNN reported that Dingell and Upton sat down for a joint interview on CNN's "State of the Union" to reflect on a tumultuous year in Washington and to call on Americans to, as Dingell says, "get back to just remembering how much we have in common."
"It's pretty toxic, there's no question about it," Upton said of the climate in Washington. "It's a pretty toxic place. I've never seen anything like this before."
In August of this year, they called for civility in our politics, "You can't just look at us and tell us we have got to talk to each other," Dingell said. "Every American needs to worry about their democracy. Congress is a representative body. So, it represents the population of what you are seeing."
As Congressman Upton nears the end of his career after this session of Congress, will he continue to work with his longtime friend to seek a less toxic and more productive Congress?