TRENTON — Voters in a Downriver-based house district are wondering what happened to Republican candidate for House of Representatives Bob Howey. A recent mailer from Howey seems to be a complete flip-flop on his position on abortion but Bob Howey now says he doesn't want to even talk about the issue of abortion.
In 2016, Trenton-based Bob Howey easily won the Republican nomination for what was then the 23rd Michigan State House district and went on to be defeated by Democrat Darrin Camilleri.
During that campaign, Howey was overtly anti-abortion. He received the endorsement of Right to Life of Michigan. The "Vote Smart" website lists him as "Pro-Life" and provides his candidate's statement on this issue as "'We hold these truths to be self-evident, that all men are created equal, that they are endowed by their Creator with certain unalienable Rights, that among these are Life, Liberty and the Pursuit of Happiness.' Bob believes that life is a gift from God and will fight for right's of the unborn." The "Vote USA" website shows his "Areas to Concentrate On" as "Howey wants to implement a 'Common Sense Plan' that emphasizes Jobs and the 'Right to Life'".
Additionally, Ballotpedia quotes his website at the time, howey4rep.com, with the same statement provided on the "Vote Smart" site. Howey's 2016 website has since been removed from the internet and an archive.org search for it returns a blank page.
Howey also responded to a candidate survey from the Oakland/Macomb chapter of Right to Life in 2016 with clear anti-abortion positions including wanting the U.S. Supreme Court decision in Roe v. Wade to be overturned and supporting the defunding of Planned Parenthood.
Finally, in a candidate's statement for The Huron Hub, Howey touts the fact that he was "The ONLY candidate endorsed by Michigan Right to Life" in the 2016 campaign.
This cycle, Howey is running for the new Trenton-area House seat in the 27th district and beat four other candidates in the Republican primary to advance to the general election. During the primary, Howey sent out a flyer that lists "Right To Life" in the "About Bob Howey" box: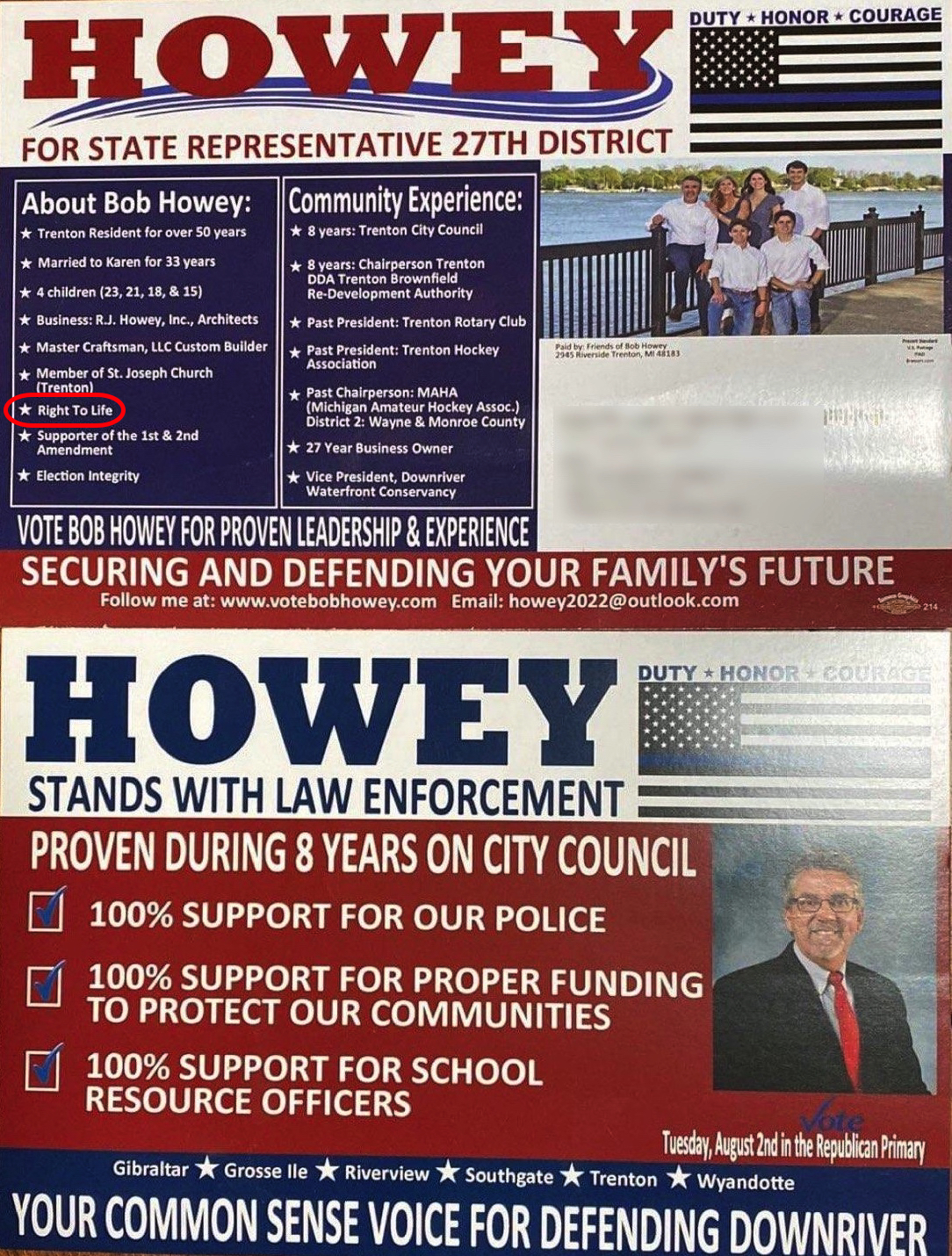 Click image for a larger version
Once he won his 2022 Republican primary race, the Upper Downriver Right to Life chapter endorsed Howey to, in their words, "advance the pro-life, pro-family cause."
Now, with the primary behind him and a groundswell of pro-abortion sentiment in Michigan – made more prominent and important with the impending Reproductive Freedom for All ballot proposal that will be on the ballot after collecting a record-breaking 730,000+ signatures – Howey has now gone silent on this issue.
There are no mentions of abortion or his anti-abortion stance on his current website, bobhowey4rep.com, and he makes no mention of endorsements from anti-abortion groups like Upper Downriver Right to Life on his endorsements page.
The same is true of his Facebook page.
However, it's a recent mailer sent to voters in the new 27th House district where Howey seems to truly be distancing himself from his long-held anti-abortion position. The mailer refers to the Reproductive Freedom for All ballot proposal as the "Right to Reproductive Freedom ballot initiative". In the mailer, made to look like a personal letter to the voter, Howey says the decision on the right to an abortion in Michigan "will be decided by the voters, not politicians in Lansing". He goes on to say "I believe in our democracy, and the voters of Michigan will have the final word: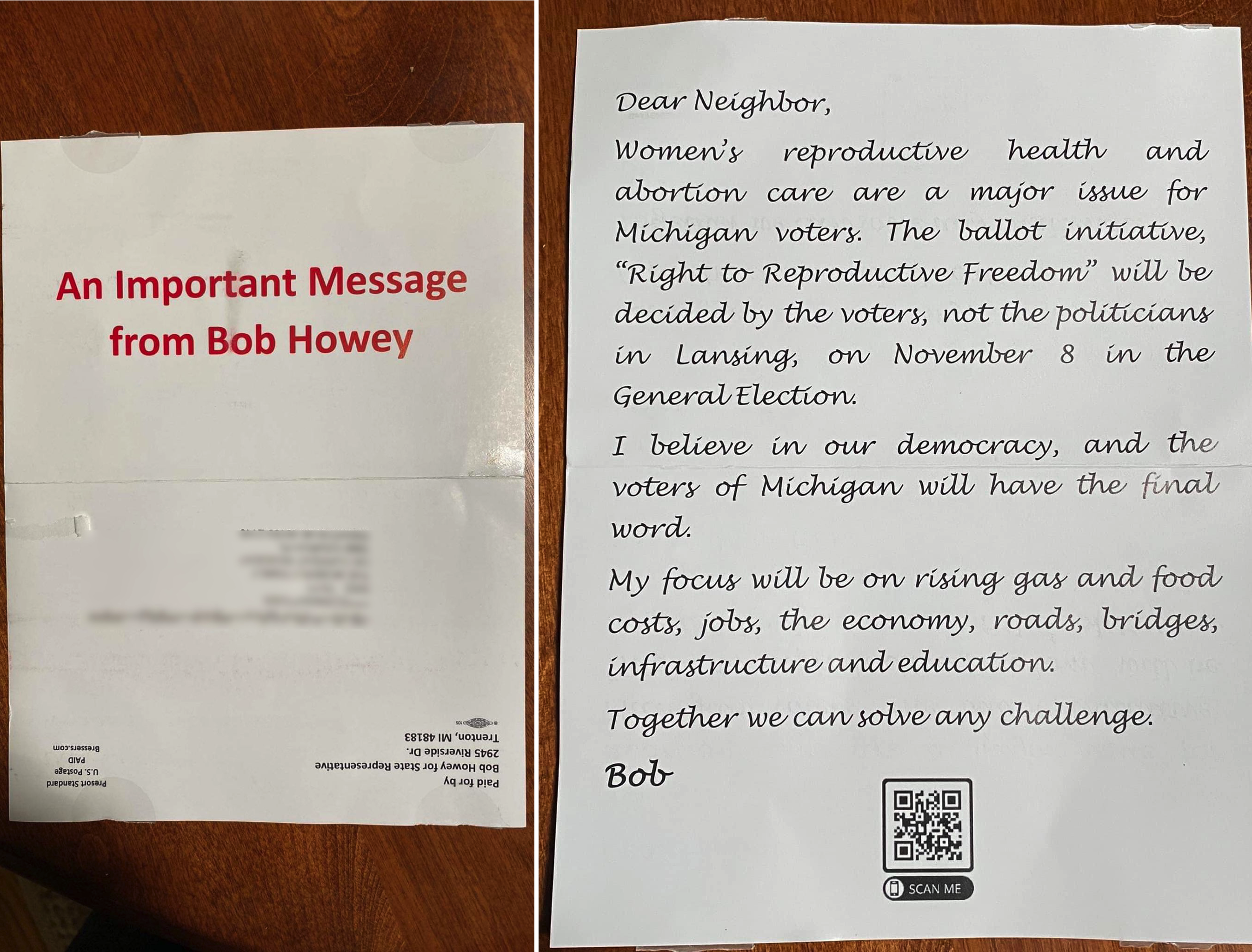 Click image for a larger version
I reached out to Mr. Howey to get clarification on his position on abortion. After years of a clear anti-abortion position, including advocating for the overturning of Roe v. Wade and making unambiguous statements that he "believes that life is a gift from God and will fight for right's of the unborn", he now seems to have pivoted to a position where he believes the people of Michigan should be given the choice about the right to a legal abortion in our state.
I did not receive a response from Mr. Howey. Similarly, Upper Downriver Right to Life did not respond to a Facebook message about their support of Mr. Howey's candidacy now that he appears to be either pro-Choice or fearful of voters knowing his true extreme position on abortion.